So far, I am quite enjoying
"I'd Rather Be In The Studio"
. Of course, I haven't been painting... ha! But I still feel like I'm crossing things off of my imaginary to-do list. I don't feel quite ready for the second action (Organize Information), but there was mention of getting rid of clutter and I have to agree: a messy space results in stress and procrastination.
I love peeking into workspaces so here's one of mine this morning...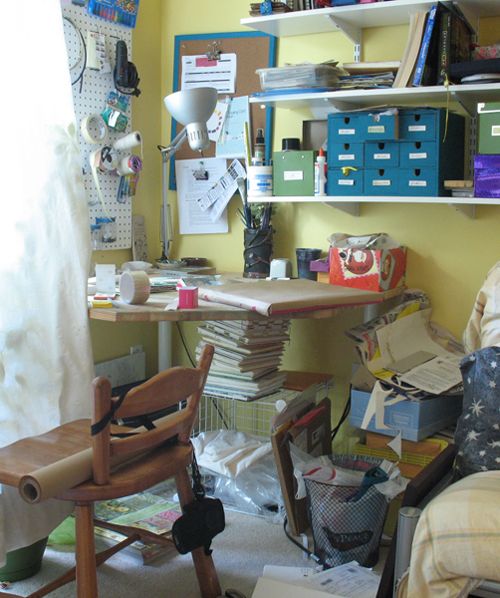 Geez... I love how the lamp is upside down. It just completes the feeling of chaos.
So there's a half gift-wrapped painting on the desk because I lost my ribbons.
Scissors on the floor (!),
scrapbook paper stack is falling apart,
missing paintbrushes...
Behind the curtain is an empty water glass from who-knows-when.
Overflowing recycling stack & bin
I can see a framed painting from the blueberry festival just waiting to be smashed...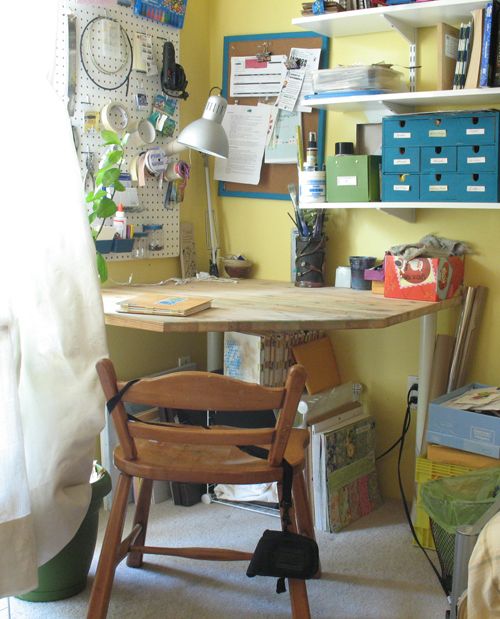 Guess what, I found my ribbons!
Having an empty desktop actually RELAXES me just to look at it. It never gets too out of control, but I get so easily frustrated when I'm in the middle of a project and can't find the scissors (only to find out they're right under the project I'm working on, argh!).
Honestly, just clearing the desk takes about 2 minutes if everything has its own place. If not, that's a new weekend project to consider! I love my pegboard and can't imagine not having it!
Also, I'm sending out the newsletter tomorrow. If you want to see cake pictures (not published on the blog) then sign up on the right! ------------------------------>