There's this cat that just follows me around the house, I don't know why but he won't use his words to tell me what he wants.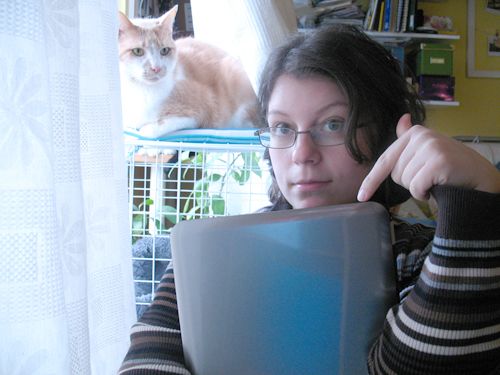 Last night, I got my new laptop! It was not easy; we were shopping online for a bit but when we got to the store, they didn't have anything under $600 that wasn't lousy.
We went across the street and found more choices, so that was good. It isn't exactly what I wanted (there was a $350 option that looked fine and even had a number pad, but it was sold out), but it's still more exciting than our desktop which is more than I need, really.
No number pad :( Oh well, I'll have to finish learning how to type. I quit at numbers and symbols and told myself I'd never need to use them blindfolded. Oh well.
Awww man I can't believe how many pink laptops there are out there... at the risk of being a stereotype, I have to admit I wanted one. Just because it was different. And had a number pad. And cool texture. And a nice keyboard. And it was pink instead of gun metal grey. But you know I didn't want it badly enough to spend $800+ on it.
It's not ready for me yet (it's still a bit skeletal) but I'm so tickled over the concept that I decided to make a digital download, cutting out a few pieces from my paintings (not literally) and putting them together in a file you can use for scrapbooking, digital art journaling or whatever!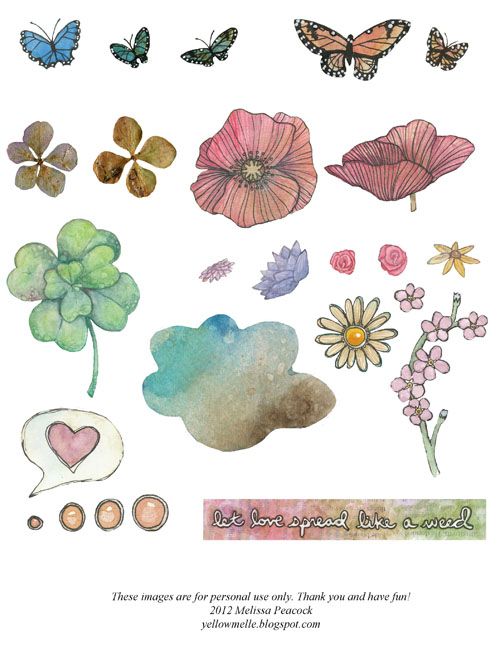 Here's a quick digital journal page using the photoshop file with transparent layers (probably easiest option):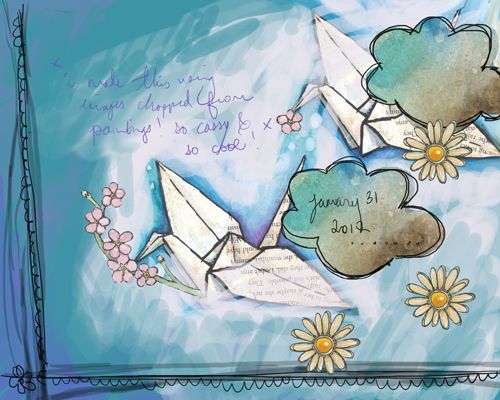 I had fun with the downloads from Journaling Deep and thought I'd Pay It Forward. This is for personal use only.
Oh and I was a total jackass and didn't label any of the layers on the photoshop file. So you get to shuffle them around to find out which layer you want. Sorry about that. It's large, but easiest because then you don't have to cut them out from the background :)
Follow the link to a filesharing website! Click "Download" near the top! There is also a print option if you want to print it out directly from there.
Photoshop File With Transparent Layers
(19MB)
PDF File on a White Background
(159KB)

JPG File on a White Background
(933.3KB)
Enjoy.