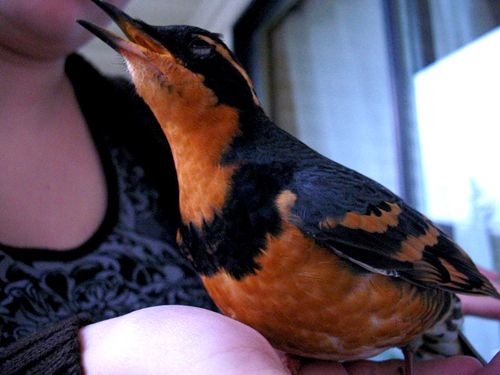 This weekend, before I left for day two of A Piece of Work, a Varied Thrush hit our window. At first, I thought the sound was our cat Milo's paw hitting the window, as he happened to be looking through the glass and naturally tried to catch it. When I looked outside to see what was the matter, I expected it to be a windblown leaf, not a bird frozen in shock!
It seemed to be in good shape (just a little woozy), so I paused to marvel at its pretty colours. It sat in the dry bucket with an old towel for nearly an hour before taking off.
I thought about the bird periodically throughout the day, so naturally I was drawn to
Shannon
's little paintings she'd brought to the show that morning.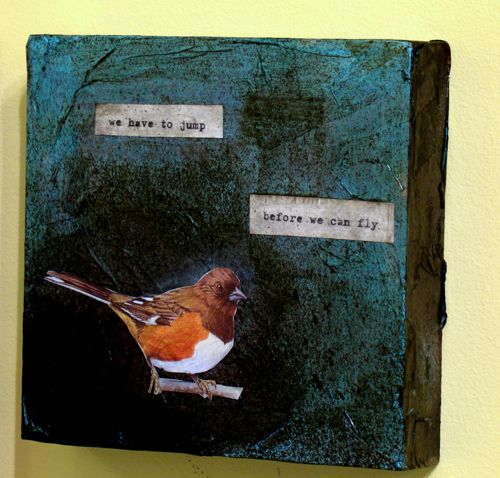 We made a trade!
I chose this particular one because it really is terrifying to take a chance and fail. And there is a lot of failure, don't get me wrong.
A lot.
Of failure.
But I think once you fall down a few times, jumping just doesn't seem as scary as it once did. There will be bruises, and embarrassment... but there is also exhilaration!
That's one of the nice things about collecting art, in that it is an in-your-face reminder of something lovely. When I look at this painting, I will remember the pretty bird that visited us that morning. I will remember all of the people I met at the show and all of the lovely things they all said. And I will remember it everyday, instead of only on the odd chance I flip through my scrapbook.
This is good, because when I'm not thinking about this potential, I do feel a bit flightless. I hope that this will continue to remind me of things that truly matter :3