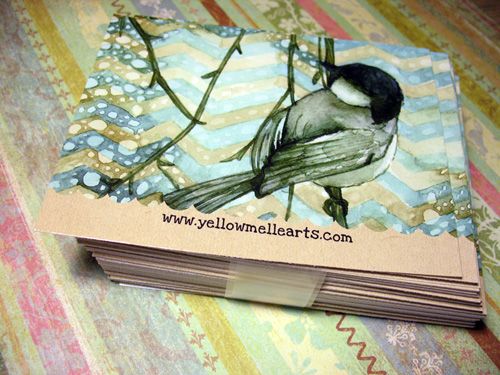 Awwww yeah, check out this fat stack of sweet postcards I ordered from
Vistaprint
!
I would have preferred Moo, because of their printfinity option, but I'm not sure if postcards are the right fit for me yet, so I wanted to test it out with the least expensive place I could find. You do indeed get what you pay for, though.
I decided that if I was to have only one design, I picked one of my favourite paintings: "Good Morning". I can't wait to use these as thank you notes and try sending them through the mail! Unfortunately, "postcards" aren't commonly used as postcards anymore, so it's hard to find some that actually meet postal standards.
So here's my Vistaprint review:
The paper is maybe only half the weight of an actual postcard, so they are quite flimsy. Also, they charge extra for matte finish! This is a bit tricky because it's required.
It will be an interesting test to see if one actually makes it through the postal system. :3
Regardless, I can't wait to play with them! This is definitely a much larger quantity for the price (I forget how many... 100?), so I can't complain.