I'm not sure about this one. But it's been so long since I've gotten my hands dirty that I have to accept this cloud with open arms. *Cartman voice*
He's just a boy
.
The truth is (and this could be useful information to the world), I forced myself to paint this for submission to UPPERCASE magazine... which is exactly why I am unsure of it as I doubt that they would appreciate this.
But I sent it anyway.
Because I don't know what is going on behind the scenes. It's a fairly popular-sounding mag, so there are probably going to be plenty of submissions for them to choose from, but I don't know that for sure.
It is the same philosophy that artists use to apply for grants. Even if it's for a tiny amount of money, apply for it! Because everyone else is already looking at it thinking "oh it's so little, what's the point of all that work", that you could be the ONLY person applying and thus, win by default. I'm pretty sure I won a scholarship that way.
Same goes for job applications. Most of them have those heavy requirements up there to scare away fairweather applicants. Maybe no one has those requirements. Maybe you will be the only one to even try for it.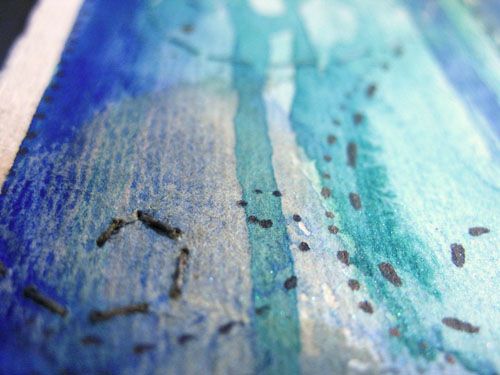 I'm writing this way because I hear negative sentiments even from my most favourite online art stars.
"...That's why I closed my etsy shop... I'm so scared of failing again in that respect, I won't even try."
Not trying is the only way to guarantee failure.
I think it hurts me, not only to see my favourite people feel that way, but also the message it conveys. Especially if they are actually somewhat successful in their trials. What does that say for me? I don't have nearly as large a fan base or as many regular publications or my own stamp line. Does this mean I should be giving up?
Sometimes I feel like giving up.
Sometimes I have to remind myself that I do this because I enjoy it. If I was blogging for the sake of comments I would have given up ten years ago. If I was on etsy for the sales alone, I wouldn't have even stuck around long enough for the first one. That certainly puts things in perspective for me. That there could be another version of me somewhere that does nothing creative and just washes dishes and watch tv all day.
*shudder*
Heck, I would rather be a spectacular failure than someone who never tried anything ever. I have rejection letters from times I sent out terrible manuscripts to agents and publishers back in the day.
I actually really love those rejection letters. Go figure.