I don't accumulate a lot of supplies like most people do, mostly because that stuff costs money! Ow! So I tend to fall back on a small selection of favourites to play with.
Lindy Stamp Gang
I caved and purchased a try-me set of sprays from Lindy Stamp Gang, and they are pretty fun. I looovee the look of ink sprayed over a stencil. They're glittery!
Cotman Watercolours
These are a step down from standard Windsor&Newton watercolours and will probably last many years. I much much much prefer the dry cakes over the tubes, and it's kind of hard to find them sometimes.
Golden Gel Medium
This is a new friend of mine, and can't wait to play with it some more! Super thick and dries clear, so you can make as much bumpy texture as you want.
Faber Castell Pens
The pens say they are waterproof but I disagree. They run like crazy. Maybe I'm just not using them correctly?
Acrylic Paint
Occasionally I will use some acrylic paints (journaling, mostly), and if I do I prefer Jansen Art as they have the exact colours I want but with consistent pricing. For easy to find colours, I will usually go with Stevenson.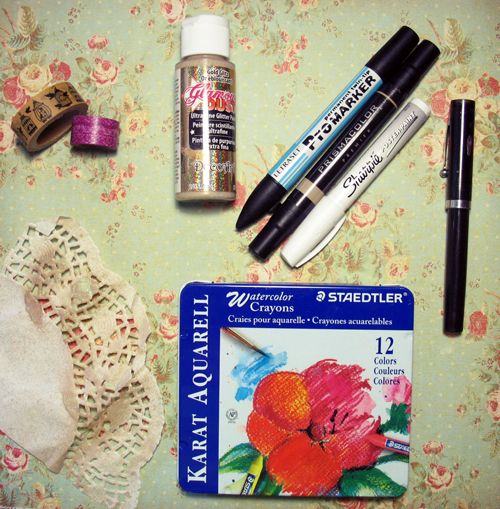 Decorative Tape
Still weirdly difficult to find, but if I feel like splurging I will buy a few patterns at a time. It was one of those things I put off purchasing for a long time, but now it's a must have! :D
Glitter Craft Paint
Ha! It was a dollar and I just wanted to try it out in my journal, and I ended up loving the effect! Way less messy than using regular glue and glitter... if you have a need for that sort of thing.
Markers
I have a box of markers that I use sometimes in my journal. They were a gift, and I'm not sure if I would buy them otherwise. The prismacolor ones are really nice and hardly smell at all. The promarkers smell a little bit and I have a box of Chartpaks that stink even with the cap on!
Calligraphy Pen
I often use this to write in my journal after the pages are done. Reacts a bit weird over acrylic paints though.
Stencils
My most commonly used stencil is the paper doily, but I hope to build up a small collection of pattern stencils someday.
Staedtler Watersoluble Crayons
These were the only ones I could find locally but they're pretty inexpensive and work okay. They're soft crayons that melt in water. Remember those colouring books with the little dots you paint over? It's like that.