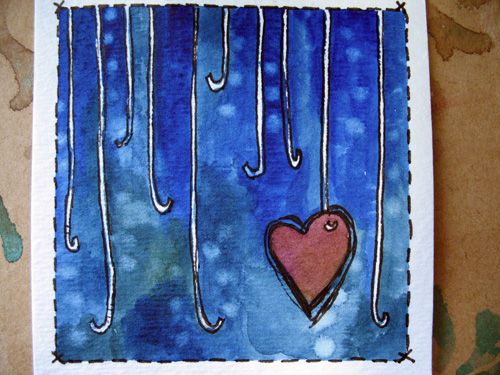 I have not completely forgotten my original goal of providing original artwork to those who have little money to play with.
Before I started art journaling and before I truly got back into painting, I was into Artist Trading Cards, which are baseball-card-sized pieces of art meant for trading. From that, started an ACEO trend where some artists sold the trading cards for money, and suddenly art was affordable and abundant.
I actually don't like the size/shape of ACEOs at all, so I decided to try a 3x3 inch square of paper! I think it's cute and can imagine one of my apartment walls covered in them. Wouldn't that be adorable?
Here is a video of the first one, "Fishing for Compliments"
So yeah, one of the things I plan to buy one day for this business is a new camera! Heh. Well, it's a nice thought anyway.