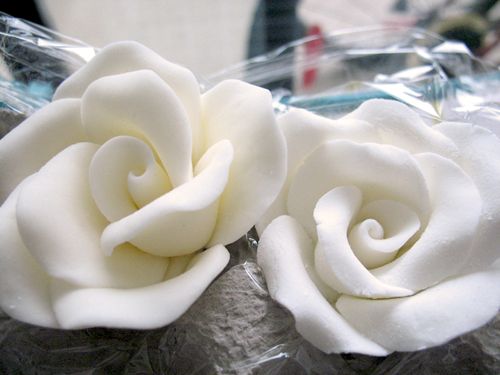 So I learned a new lesson.
If you've been following a while, you'd know that on occasion, I might make a cake. You might even know all about rolled fondant and how I abandoned it for the new-fangled marshmallow fondant.
Silly me, I put my marshmallows in the bowl to melt and just left them there on the stove until they were crunchy little dried up things which was no good at all (do not multitask in the kitchen, btw).
Because I am making lots of roses for a wedding cake that will not be eaten (and I was out of marshmallows), I decided to just throw together regular rolled fondant instead. I remember holding the bottle of vanilla in my hand, thinking
if I add this, it won't be white and then it won't match the marshmallow ones I've already made, so I will use the clear almond instead.
Well guess what. Marshmallow fondant isn't as white as I thought.
Ha!
Also, the texture is totally different. I'd much rather use the marshmallow kind because it's the only one that tastes decent.
But it's ever so slightly off-white.
Remember that when you're mixing the two and you want them to match. Because they won't. And you'll feel silly and wish you'd just gone to the store to buy more marshmallows.