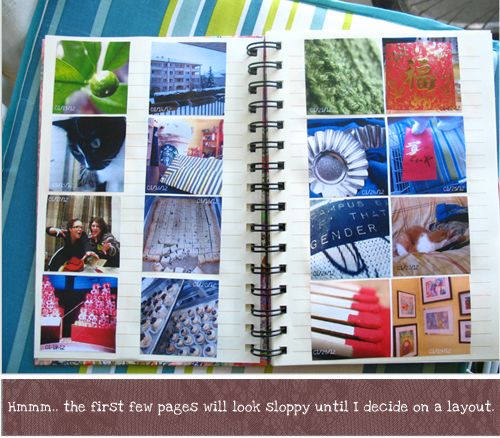 Somehow I am still kicking with the daily photo thing. It's still hard to remember and even harder to think of something to photograph (because I don't really go anywhere), but I've only missed a couple of days. One of the "photos" this week was actually a screenshot.
I saved up a bunch of images and arranged them all on a sheet of paper (to be printed out as 2x2" squares) kind of like a grid. A very colourful grid. They were printed on a laser printer at the college! So they're super colourful and kind of shiny!
I thought they actually looked awesome as a full page grid, but I committed myself to paste them into this book so that's where they're going! So far it is working out pretty well. They're already dated in photoshop so I don't have to remember any details after a month of image collecting.
So far, this project is very very cool and can only get better with age. You should try it!